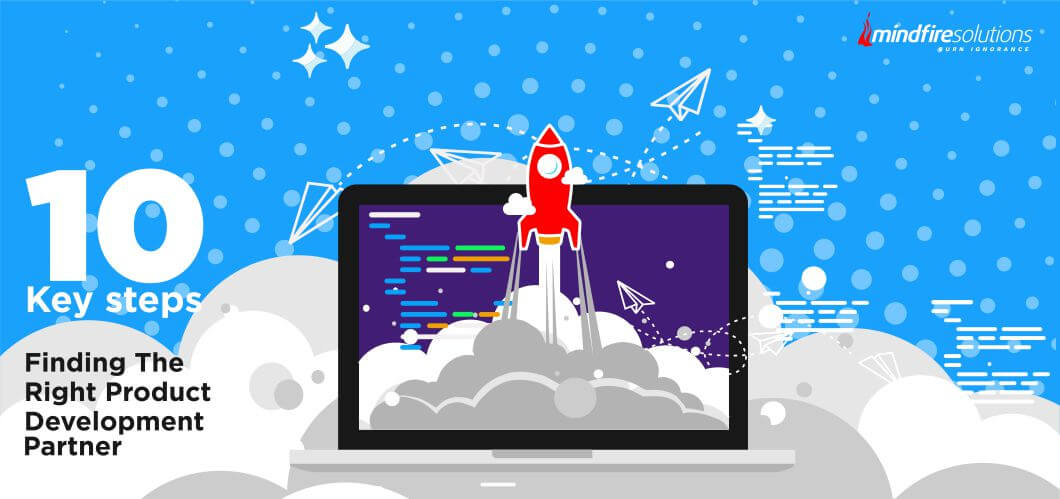 Software Product Development: 10 Steps to Find the Right Partner
A groundbreaking idea is all you need, but is it truly so? There are way too many technical and time-related challenges that befall the way. Then there are tighter operating budgets & the dreadful smart competitors. What if you do not have an in-house team for Software Product Development to bring your ideas to life? Or if you would like to get a product developed by professionals who are experts in both domain and technology – would it cost a fortune? Wouldn't it be a dream come true if companies could materialize all the ideas they had all by themselves?
In today's fast-paced world driven by technology, having a product development partner is the best bet for businesses. Not only does it allow existing internal teams to focus on the core business and products but also allows parallel innovation, brings in external benchmarked processes, ideas into the development process itself, helping your product get refined.
But how do you decide if your software product development is in the right hands? What are pros and cons of having an external partner? How far can you trust them, what are the questions you should ask them and more importantly, what are the questions you could ask yourself before you get started! In this white paper, we discuss the freakiest challenges of business owners and a step by step approach to effectively research, evaluate and join hands with a product development partner best suited to their business.
The Core Challenges Persist
Choosing a software product development partner can be intimidating at times, primarily because of the difficulties and challenges you can face in finding them and getting to trust their capabilities and delivery capacities. You can categorize these challenges into 3 major buckets -Strategic, Operational and Technical.
Strategic Challenges
An ideal product development partner starts the ground work with you, and that ideal-ness is not very common. Launching a new product or service to your audience requires a lot of planning and careful calculation of things that may go wrong. Businesses tend to ignore the strategic approach and get straight to execution and most product developers would want to get engaged straight into the revenue generation cycle.
The most common strategic roadblocks that enterprises face are
• Lack of visionary guidance on the development partner's end.
• Unawareness of best practices and domain expertise.
• Minimal of or no agreement policies regarding involvement of customer teams.
• Limited or ignored post development support.
Operational Challenges
In a perfect world, a software product development partner should be able to unravel their grasp on the SDLC (Software Development Lifecycle). Businesses tend to plunge into costs and deadlines too soon totally ignoring the collaborative approach, time mapping, circumstance analysis that is crucial to draw project outlines.
Some of those notable operational negligence factors are-
• Unclear nature of contacts
• No proper disaster consideration
• Shallow SLAs and IPR policies
• Not gathering enough proof of operational excellence
• Not thinking scalability through
Technical Challenges
Even after clearing all of these scrutiny levels discussed above, another challenge can be that the product development vendors favour the technologies they have strong expertise on and push the clients into believing that those technologies are the best fit for the product being developed. This is not just scary but unethical as well. The right infrastructure decides the fate of a product development project in an instant. There's no validation for the said partner's team size, claimed certifications and infrastructure. The only way to find that out is nosing every little detail they provide and losing valuable time.
Technical challenges can be of various kinds-
• Lack of claimed agility and availability
• Retention issues despite larger team capabilities and size
• Outdated technology (licenses, hardware)
Having laid out the challenges let's discuss a step by step procedure of how businesses evaluate a product development vendor to eventually partner with them.
Choosing the Right Software Product Development Partner:
Answering Crucial Questions First
Time

Urgency is good, haste is not. The vaguest assumption made frequently while outsourcing software product development is the correct assessment of estimated time. Everyone one talks about it, but no one means it. Everyone takes delays and shifting of deadlines as a normal occurrence. Despite the norm, a vendor who establishes realistic and un-compromised deadlines shows early signs of a perfect partner for product development.

Decision makers must look out for time-related seriousness while evaluating various vendors. Asking questions about delivery deadlines and putting those deadlines on paper gives the idea owner a stronghold. Furthermore, time can be translated into a monetary asset to create a solid foundation for subletting your development projects.
Cost

Price is always a deciding factor in any purchasing decision. While searching for a product development partner, the pricing might get very competitive among industry players. It's been truly said – Pay Peanuts, Get Monkeys. Even though budget needs to be controlled, businesses should be a little liberal and not look at pricing alone as the key factor while selecting their vendor. In software development projects, the prices provided are almost ballpark ones with an expected deviation of about 15%.

Laying out the end to end scope of work beforehand with reasonable buffers can save additional estimates and unruly demands of a vendor mid-project. Another important factor while finalizing a product development partner is fixing the percentage of inflation. The best way to keep costs under your control is clearly communicating about an open pricing model and a detailed discussion on costs that might appear post signing the contract.
Seeking Technical Expertise
Apart from deadlines and price, technical expertise plays a crucial role in determining the right product development partner. Does your prospective partner analyse and benchmark technical best practices? Do they value a sustainable and scalable architecture? Do they quote success stories with a leading technology? If the answer is yes you've found the ideal partner.

A product development partner must be technologically sound and equipped to take over critical situations ad gaps. They should have the knowledge of involved tools and mechanisms at their fingertips, and their workforce must have at least a couple of technology translators and demonstrators to answer any query in the discussion phase, helping businesses make a well-informed decision.

A software development service provider must be equipped with a mature talent pool comprising of knowledgeable engineers and sharp team leads and managers. Not every product development partner will have the honesty to declare but businesses must always place keen interest in finding how many projects the vendor is running at a certain point and whether they have the technical capability to provide exclusive attention to your projects. This can only be possible if they dedicate selective technical experts as full-time caretakers of your business' project.

It is also imperative to figure out the health of the vendor's infrastructure including but not limited to their server specifications, telecom bandwidth, network security, backup and, disaster preparedness. It is always safer to keep track of these minute technical details and ensuring that their systems are robust enough for optimum delivery.
Determining Business Expertise
The biggest most common flaw in the world of technology is that while we select a product development partner we focus on cost, timeline, technology and side-line the most critical element involved, the line of business. It should be of utmost priority for businesses to figure out whether or not the vendor has the familiarity with your business and relevant domain expertise.
Decision makers must invest time gathering information on skillsets and the company's in the particular niche that the business operates in. Supported customer references, testimonials, and case studies can determine this competence and help businesses qualify the best vendor. While determining the business excellence, it is also advisable to conclude the speed at which the organisation updates itself to adhere to business changes that affect their customer. A vendor that looks for the watering can when the cat's tail is on fire can't do well to your business.
Foresee & Forecast
There a steep possibility that a product you have in mind already exists or a similar product is being built elsewhere. Competing is healthy but trying to sell a product that's not one of a kind has its own downsides. Assessing your prospective partner on those lines can do wonders.

Are they adding value? Are they intuitive enough to get into details of the market? Choose a vendor that can reduce time to action when you have the need to ramp up and add additional features, build differentiation for you and is open to feedback and alternatives. At the same time, business owners must analyse the risks that may follow if the project needs to be ramped down.
Developing a product is a long time affair comprising of multiple stages and phases. In every stage, the control must always be with the core business stakeholder – you. Asking questions pertaining to transparency, communication processes and reviews help in preventing problems in the future.

Product development is a long time affair. It contains numerous stages and phases that are required to be managed equally, and therefore, a partner must have a mature process and a competent management that regularly communicates progress and follows sound relationship management that practices transparency. Maintaining a constant comfort zone is important too, ask and understand the processes that suit your business and see if your vendor is comfortable advocating them.

As your business grows or undergoes divestitures, said product development might switch priority levels. Ensuring that the product development partner is able to provide you scalability options right from the beginning can save monetary, time and resource losses to both the customer and vendor. For example, there can be scenarios where your legacy applications are a good fit for new product development and there can be a potential cost saving. If your vendor highlights such avenues voluntarily, they're most likely to be a great partner.
Protecting rights and competitor leaks
Businesses often face situations where an ideal product development partner is also a partner to a competitor organisation or is pitching similar clients. How do you guarantee the protection of your intellectual property and that your ideas are safe with the vendor?

Protecting and respecting your time, monetary and intellectual sources are the pillars of a successful partnership with an ideal product development partner. In popular product development destinations such as India, product development companies refrain from keeping intellectual rights of the products keeping the product immune from the competition.

Signing a non-competing agreement is another critical measure necessary before finalising a product development partner. It should be utmost priority of businesses to sign a clear and strong non-competing agreement. This diminishes the possibility of the partner developing similar product anytime in future, anywhere in the world. You can also choose to backtrack the vendor's earlier engagements for a sample IPR.
Quality Assurance & Bench-marking
Along with technical and domain expertise, safeguard your ownership and rights with the partner you choose to develop with. They must have a healthy quality assurance system in place and they should be able to deliver it with utmost agility.
Quality Assurance can be a very vague phrase with varied meaning. In the matter of technology ask your product development partner the following questions:-

• Can they provide a thorough quality policy statement?
• Do they have the manpower and tool competency for frequent testing?
• What are the projected tests and when will they be performed?
• How much do the teams rely on automation and if there is any human intervention?

Not compromising with quality is a sign that the vendor does not undervalue customer satisfaction. Keeping up with industry quality standards is one thing, taking one step ahead and embedding quality assessments in every step of the product development depicts excellence.

It is preferable to choose a product development partner that can promise strong communication bridges not just with you but also internally. Not seeing QA as an end of lifecycle job but keeping it on the checklist frequently throughout various stages is another great trait of an ideal partner. You should carry out testing procedures at every stage of the development. This demonstrates transparency, responsibility and an assurance of faster delivery turnaround as testing and quality feature assessment is important in their processes. The level of detail provided by a vendor during trials can get businesses a glimpse of the level of importance given to quality.

Undertaking code reviews, proper documentation, developing pseudo codes for pre-implementation reviews are some details which you can add to the quality assurance agreement.
After- Sale Support and Services
Imagine a scenario where you hire a development partner to build, test and deliver the product and then you have to find a whole other unit for product maintenance and support! You can sort these hassles easily through proper research and communication into the vendor selection process.

It is not only nicer but essential to choose a partner who provides end-to-end product lifecycle management. Multivendor engagement is always a hassle, inconvenient and time-consuming.

No matter how careful you are while selecting a development partner post-delivery disruptions are a common occurrence. No matter how much QA and testing the product has gone under when it faces the real life troubles in the hand of customers, there may be problems you may not have expected.

Making sure that your partner is readily available, easily accessible and offers seamless troubleshooting services makes for a win-win situation. Setting up an expert help desk if not assigning a permanent resource to your case is a great practice and demonstrates technical leadership. It is also imperative to keep in mind the occasional maintenance, updates and, upgrades long after delivery.
That's not the only reason, retaining the development partner comes with other perks. Be it migrations, additional deployments or version upgrades the initial minds that have brought your product life understand it the best.
To assess your partner on these lines evaluates their alliances. Check whether or not they are associated and validated by global leaders, tool vendors, third party influencers and more. The recognition from leaders not only endorse a prospective product development partner but also assure support from renowned brands.
Workforce Management
People represent organisation and the organization is as strong as its individuals are. Analysing the team structure of a prospective partner for product development is an important step. The vendor must have an equilibrium between the number of engineers, testers, and developers at various stages of the development life cycle. If the structure of the existing team allows a blend of skills and a specific headcount, check whether the partner is open to on demand augmentation if and when you need it. This will help you attain a cost optimized model. Also the model needs to align with business needs and will save costs incurred by a process that does not allow variable hiring or engagement.
Before beginning any discussion, save yourself time by asking the simplest question first. What is the number of employees at the prospective partner company and always go for a larger headcount number than your estimated requirement?
Conclude the team's strengths by examining the claimed skills. Interview teams if needed to double check if the people assigned to your project complement your needs and have the required experience. Also request for information on the model of internal training, learning and development programs
Something that might seem like none of my business kind of a situation is the organization's employee attrition rate? High attrition rates not only hamper continuity but also lead to potential seepage of information. You should take the nature of employment of the team members and you must design separate bonds for contractors.
Infrastructure Robustness and Availability
The foundation of any software product development project is the software and hardware infrastructure of the potential partner. Checking licenses, availability of hardware, quality of equipment is a must consider factor before assigning a project.

Operating systems, databases, servers and even table top systems must be in place before engaging the vendor, if not, businesses must probe their capability to arrange those before the project is embarked upon. Understanding the Networking infrastructure and enterprise security is another important part of the deal because that determines remote delivery and offshore operations.

Some other considerable factors to address are integration with other custom applications, licensing fees and hardware/infrastructure to support your technology choices for the product development. Decision makers should not hesitate before asking for proof of concepts, infrastructure architecture and basic technology tests before making a purchase decision.

You must remember that a robust infrastructure is a key to help ensure an ideal atmosphere for an engineering team to work on and deliver optimum results.
Reputation, Location and Others
Like any other business, the reputation of a company thrives on market demand and long-term relationship with the organization with its customers. Talking to existing customers does no harm and gives reliable feedback of a product developer. Testing out products launched by the likely development partner is another testament to their performance and experience.

Where your product development vendor is based is a vital element too. The laws in each country are different and it is important to have regulatory compliance in case you are outsourcing your project to a remote location. India has a huge percentage of overall product development companies in the world because of access to a huge talent pool, experience in software product development for almost three decades and more. Most importantly, India has traditionally been a cost effective market and continues to retain the cost arbitrage.

Most product development projects are contracted out and a common language to communicate plays an important role in the success of a project. And it is not just the literal meanings of the words in a sentence but also the understanding of the tone of email/conversation which can make a big difference. Ensuring that the location of your development partner is comfortable and adept in your desired mode and language of communication goes a long way in helping you communicate better.
Conclusion
An ideal Software Product Development partner can translate your precious idea into a success story or a lousy failure. Unhurried precautions and finding developers that don't pendulum among clients for monetary gains can take your ideal product a long way.
Focus on engagement flexibility rather than lower costs and choose wisely between augmentation and contracting out your project to make informed decisions with carefully calculated risks. Weigh profits against long-term engagement and seek systematic approaches over dramatized timelines.

Finally, look for a development partner who builds business complementing applications along with technical masterpieces and has got rich expertise and success in real life use cases. An ideal partner addresses your customization needs but never compromises on quality compliance and that's the partner you need to go for.
This Blog was originally published on August 08th 2017 at http://www.mindfiresolutions.com/blog/2017/08/software-product-development/